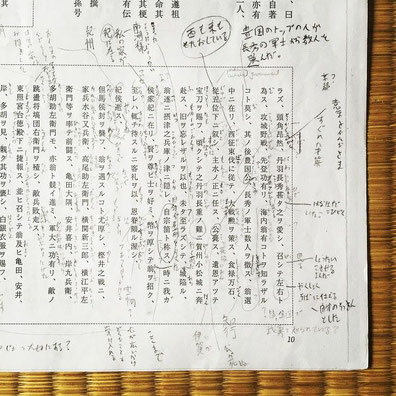 Some years ago, Ueda Sōkei, the 16th Grandmaster of the Ueda Sōko Tradition of Chanoyu (Japanese tea ceremony), gave me a valuable piece of advice when I started to deeply explore and innovate in the art of chanoyu. He said: "Confidence is born from an understanding of the old texts of chanoyu." 
He was right. These texts have had a profound influence on my practice, my teaching and understanding of chanoyu. They are composed of aesthetic, spiritual and cultural gold. My sincere wish is to translate these manuscripts, poems, and teachings to make them available to any and all chanoyu practitioners and researchers around the world. 
To this end, I released a Patreon for my translation work in June 2018. 
In a nutshell, through my Patreon I am:
Creating translations of the formative texts of chanoyu (Japanese tea ceremony)
Delivering a monthly serve of polished work with commentary
Focusing on Furuta Oribe, his peers and the genre of warrior chanoyu 
Posting discoveries, reference materials and musings about my work exclusively to patrons
Seeking publication for all finished texts 
Each month I provide patrons with a steady flow of translated manuscripts, poems and instructions on chanoyu from the early 1600s to mid 1800s, concentrating on warrior class chanoyu and the manuscripts associated with the founders of this genre, Furuta Oribe (1543-1615) and Ueda Sōko (1563-1650). These texts have not been translated into English before.
I will bring the translations to life by providing commentary and translator's notes. This work will give a window into the chanoyu of the 1500s and early 1600s while relating it to modern practice and informing the future practice of the art. I am translating the following manuscripts in the first phase of this project:
Question and Answer with Oribe - notes from a student of chanoyu in the early Edo Period (Japanese: 茶道長問織答抄 Sadō Chōmon Shokutō Shō)
The 100 Poems of Chanoyu - English waka version (Japanese: 茶湯百首 Chayu Hyakushu, also known as 利休百首 Rikyū Hyakushu)
Furuta Oribe's 100 Lines of Chanoyu (Japanese: 織部百ヶ条 Oribe Hyakkajyō)
If you would like to support, it'd be an honour to have you on board.
I would also be sincerely grateful if you would consider sharing this information to people who may be interested.
Best bow
Adam
https://www.patreon.com/adamsomu