The morning of Tuesday, 5th February 2019, saw the inaugural Lunar Wabicha, "One dawn together", roll out across our beautiful Earth. This event was inspired by one of the tea records attributed to Sen Rikyū in the Nampō Roku. No matter what school or tea tradition, all tea people were invited to create a private chanoyu imbued with one's understanding of 'wabi' to mark the start of the lunar New Year.
More deeply, the idea was that regardless of individual background, people would come together to promote and enrich the spirit of tea with the dawning of the New Year. This dedication inspires one's own life and the lives of others around them - tea can touch the world. Here we partake in the tea spirit that transcends Rikyū's time and lives in our hearts through to  to the present day.
The original post including the pdf translation of Rikyū's tea record from the Nampō Roku is here.
My good friend and fellow chanoyu crusader, Marius Frøisland, added a special highlight to the day by creating a live stream of our respective chanoyu - me first with the sunrise in Berlin at 7:42, then Marius with sunrise in Oslo at 8:22. Technical things like this are out of my reach and I thank Marius deeply for his hard work. He enabled the spirit of this event to be transmitted in a direct way to many more people than would have been possible. For me, this opportunity to perform chanoyu for an unknown and unquantifiable audience really added to the way I oriented myself to the focus of my personal offering: the égrégore of those walking the Way of Tea.
I "mandated" that my own students create their own personal lunar wabicha. I was out celebrating the New Year with my Chinese tea friends in Berlin at a hot pot restaurant when the photos from my Australian students started to roll in. They didn't stop with my students, many other tea people were getting in the spirit and hash tagging #lunarwabicha and #onedawntogether on social media. As the sun rose across our Earth, more and more pictures appeared. I was thoroughly inspired by the time dawn came to Berlin. Here is a particularly beautiful account from Musician, poet, writer and tea raconteur, Anne Norman.
Here are some acounts from a few members of Adamu Shachū:
from Melbourne, Australia
Lunar new year dawn tea 🍵
Contemplating how I abstract myself from wholeness and this verse from the Dao.
Do you want to improve the world?
I don't think it can be done.
The world is sacred
It can't be improved
If you tamper with it, you'll ruin it
There is a time for being ahead
a time for being behind
a time for being in motion
a time for being at rest
a time for being vigorous
a time for being exhausted
a time for being safe
a time for being in danger
The sage sees things as they are without trying to control them.
She lets them go their own way and resides at the centre of the circle. ⭕️
The freeway sounds starting up, the birdsong, the soft snores, the lack of horizon yet the magical twilight, picking dew laden pansy's + thyme from balcony pots, wanting to rest in the vast heart only to find the messy cupboard of my neurotic mind.
Time to declutter.
Proceed with eyes unclouded
👁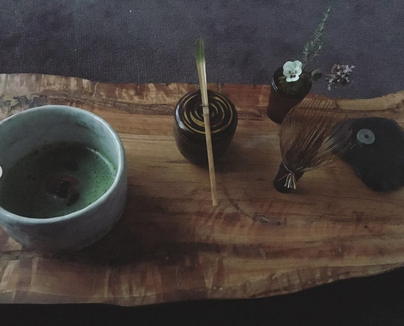 ---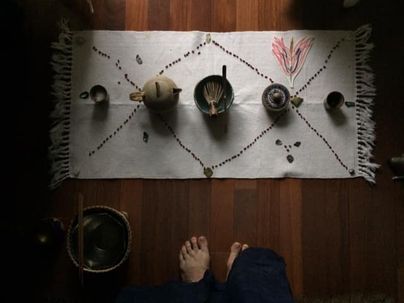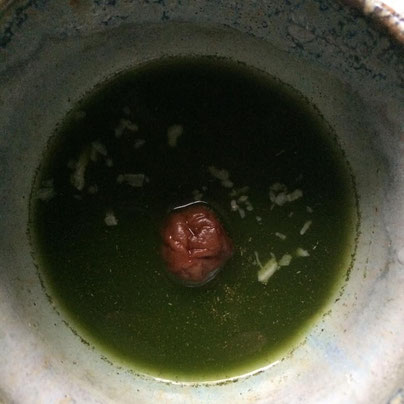 from São Paulo, Brazil
- azuki, KAA leaves, shells, abalone and cristal drawing the dream
- coconut water, KAA powder (from the native trees that guarani people chews in rituals - it originates the beverage called 'mate' by white europeans during Brazil colonization), umeboshi and dry coconut slices
- chawan with shell colour and sea references dedicated to Iemanja, the mother of the waters in yoruba tradition
- natsume made of 'soap stone' from Ouro Preto (a city explored during the gold cicle in 18th century)
- basket kensui made by guarani people
I'm praying for Brazil, our land and our people, native indigenous people, African descendants and immigrants, all our ancestors, Brumadinho victims and their families, Mother Earth, Marielle Santos, Sabrina Bittencourt, Jean Willys (still alive) - everyone who was executed, persecuted and committed suicide, who is exiled. I'm praying for the right to exist, live, dream, create and love.
I drink my tea in a offering to Suigetsu Kannon and her mirror, the water that reflects the moon, in a dance for Iemanjá, to sooth sea waves, comfort fear, repair, transform, purificate and spread love.
MY SWORD IS A GOLDEN EAGLE FEATHER
FLAMES ARE FLOWER
FIRE LIFE LOVE
_/\_ gasho AXÉ ahow
obrigada for being connected
sharing all my love for Brasil and our planet
#ninguémsoltaamãodeninguém
---
from Sydney, Australia
Joining in the lunar new year tea festivities with a morning bondemae. Inaugurated a new chawan that I found at the national galleries of Victoria for this special occasion.
Had a second bowl but switched the hot water for some sparkling mineral water, a suggestion by the great Peter M Bursky . Perfectly refreshing for summer. Thanks for the great tip!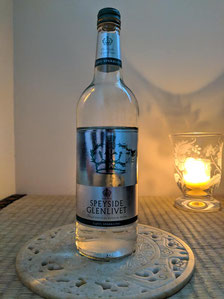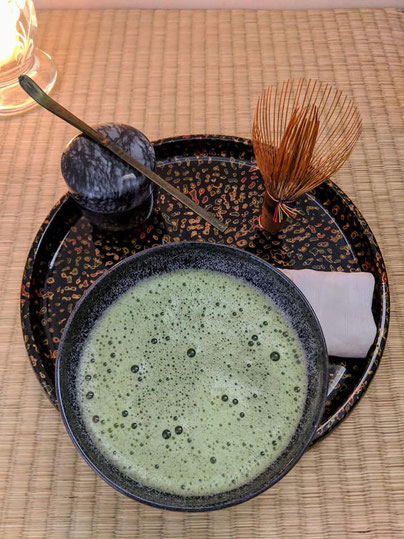 ---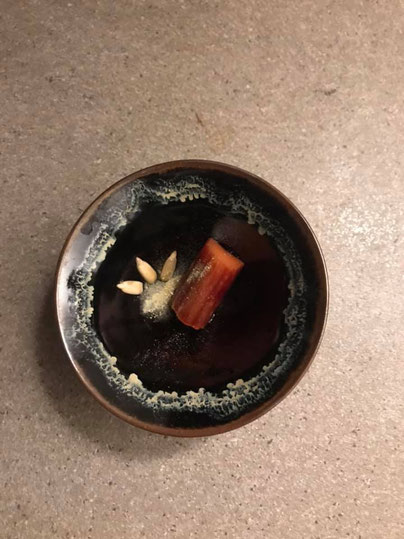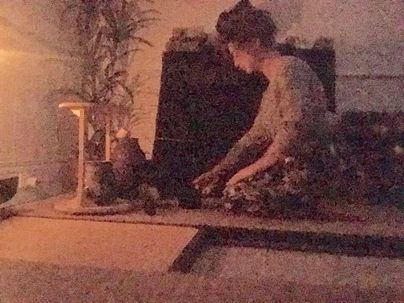 from Melbourne, Australia
I shifted the tatami to reverse orientation to honour the yin nature of the new moon and as she's in Aquarius, to rock with her lovingly rebellious attitude.
Ōbukucha in reverse orientation is FUN.
Mitate Ōbukucha:
I replaced the umeboshi with a brine-fermented piece of rhubarb I made for solar Hatsugama, representing creativity and play within ancient traditions- both tea and fermentation. I replaced the sweet black bean with 3 sunflower seeds activated with coconut sugar and water- the bean is the seed of the plant, it is the potent force holding the germinate new life. Sunflowers are for the huge golden blossoming I'm calling in for the next phase of life. I chose 3 for my Jing, Qi & Shen energies. I replaced the sanshō with San Pedro. A micro dose of sacred cactus to aid the vision quest of today's Manifestation Flow I'm undertaking to lay the foundations for a blissful, powerful and creative 2019.
Have a ball today in the ritual space.
Endless love and respect.
---
from Buenos Aires, Argentina

Did a quick diamond tea with dawn meditation next to Amida and offered the tea to the heart of all guests. It felt right.
Also, during the night, my epyphillum oxypetalum (you know, the... gekka bijin) bloomed. That's something that awakens deep, personal connections in me. It was one hell of a context. Pretty awesome.
Anyway... I don't think there's a "happy new year" as good as the cantonese one, so: kung hei fat choi, people.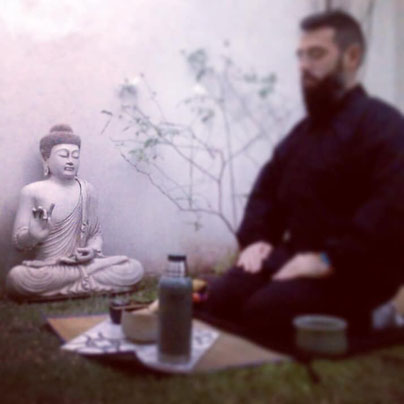 ---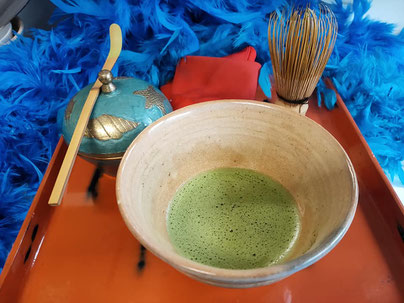 from Canberra, Australia
My personal wabicha, from the dawn to the afternoon , on the move, flying to the Canberra theatre.
あさぼらけ   Light of dawn
タクシー中から   View from a cab window
日の出かな   Shine of sunrise
(6:38am)
旧正月 New lunar year
舞台裏にて Front and backstage
新年茶 Old new tea
(12:38pm)
#NaughTea #SincereTea #Composure in Chaos
Gratitude towards Adam Sōmu Wojciński sensei and all the people from the world of tea. 感謝🙏🙏
---
from Boulder, Colorado, U.S.A
Lunar Wabicha, Tuesday February 5th: One Dawn Together
Voici my cha, inspired by the venerable Sen no Rikyū (千利休, 1522 – 1591) and made real for me and many others around the globe by the legendary @adamsomu.
As the sun rises on this day, I feel the nervous system of this blue planet waking up. Happy Year of the Pig!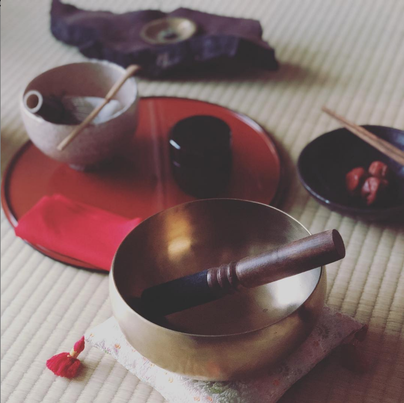 ---
from Melbourne, Australia
After celebrating New Years Eve with the Chinese side of my family until the wee hours, a slightly delayed dawn bowl of matcha, sharing in the spirit of tea with you all. Thinking about our Sensei, Iemoto and family and all you great people I have met along this incredible journey of learning and discovery. Wishing you all good luck, good health and success for 2019 ! #Onedawntogether#Ueda Sōko Ryū #Lunar new year (certainly not "boaring" ) #Teawithout guest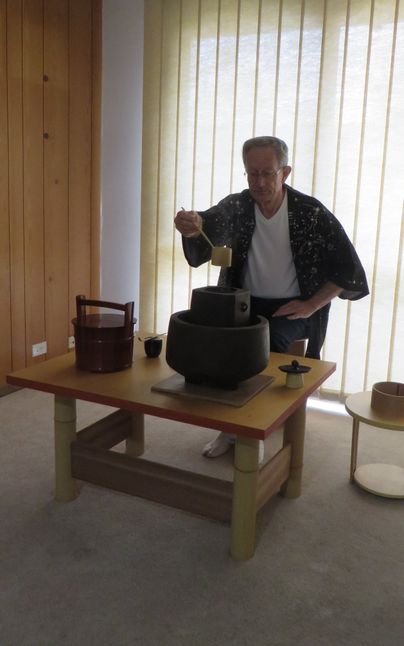 ---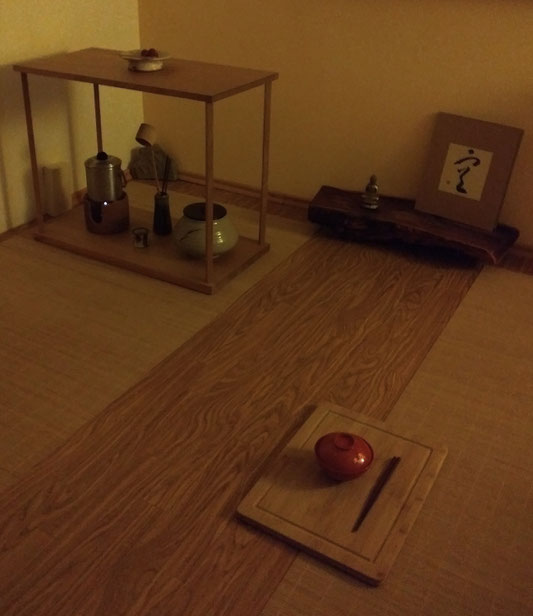 from Ceske Budejovice, Czech Republic
Lunar hatsugama - asacha
Sigle miso soup, quick tenshin.
 Ōbukucha on daisu
 The Boss & 空 Kū (nothingness) in the alcove.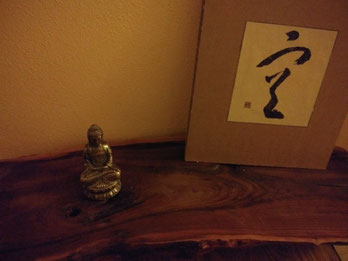 ---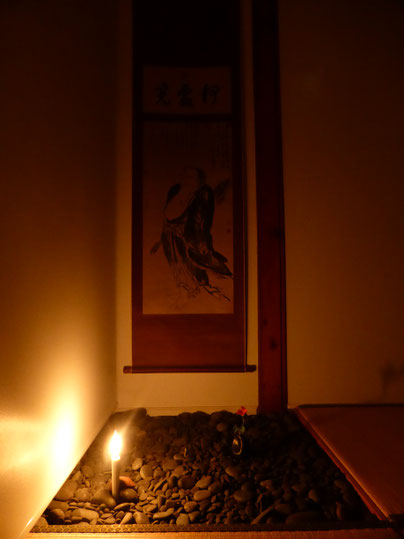 from Melbourne, Australia
Around a bowl of tea
We are one.

The sunrise this morning, the sky is cloudy.
Making and drinking tea a dawn was a quieting experience. My day has changed forever. I hope the rest will have the same uplifting feeling.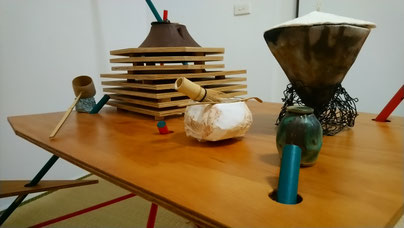 ---
from Berlin, Germany
After light snowfall just before daybreak, I made a koicha (thick tea) version of ōbukucha. This was the first time I have done this. Ōbukucha is usually made with usucha (thin tea). First I offered the tea to the égrégore of of those walking the Way of Tea, then I savoured the cha that was offered. This reflects monastic practice of the past, when tea was offered to the Buddha and afterwards the tea was either made into a libation or drunk by a monk. As I was in Berlin at Ying's house - a fellow World Tea Gathering member - I had to think of a travel version of lunar wabicha, relying on what I could carry in hand luggage and found objects. Here's my tea record:
- Five éléments graf thermos'
- Cedar chabako (traveller's tea chest)
- Gohon style chawan with plain wood stand
- Sandalwood lacquer natsume
- Yin yang chashaku (rope-bound and candle-singed)
- Seto kensui
- Layered clay and colour slip ōbuku cup by Aki Katayama
- Handmade incense holder by Ying. Made at the Workd Tea Gathering in Adelaide 2018
- Handmade denim daimé tatami with kente and tartan daisu shadow
- Daitoku-ji gold brocade cloth
- Live techno spaghetti lights around the makeshift altar
- Under a bodhi tree
Best bow
Adam